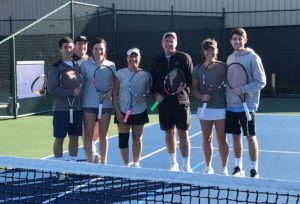 The WWTA Spring Mixed Doubles League is three courts of doubles and all divisions are 18+.  The league will run March 1 -May 16 with a 6 match minimum.  The roster minimum is 6 (3 males and 3 females) and the maximum is 15.  Playdays and start times vary based on level & location.  Town of Cary matches will be Saturday nights at 7:00pm in almost all cases, but matches at other facilities (public or private) will be on that level's weeknight option at 6:30pm or 7:00pm.  Since many matches will take place on Saturday nights for all levels, players should expect overlap between levels on Saturday nights.  No accommodations can be given for the overlap so players should plan accordingly.  Players may only play on two teams (must be different levels).
Playdays – 6.0-Tuesday/Saturday, 7.0-Thursday/Saturday, 8.0-Tuesday/Saturday, 9.0-Monday/Saturday.
This is a non-USTA league so a USTA membership is not required. However,  USTA rules, regulations and ratings apply.  Please note one exception – the minimum player rating requirements for each MXD level that are in the USTA Mixed Doubles regulations are not applicable to this WWTA league.
How to Register Your Team
2021 registration dates TBD.   Public facility options are Morrisville Church Street Park, Holly Springs Ting Park, and Town of Cary.  Captains must get approval from their home courts prior to registering.  For town of Cary, email CTPAdultLeagueSupport@townofcary.org.  For other towns, captains will register and first come first served on availability.  Teams playing out of private facilities must get approval from their facility.   Registration fee is $13.00 per person.
New registration process for 2020:  Captains will register their team using a WWTA form (team name and home court location required to register).  Click here for the link for captains to register.  After the team is set up on Tennisscores, captains will be notified of how their players will register directly onto the Tennisscores site.  Minimum number of players required by February 3rd.
We follow the majority of the rules and regulations as our USTA leagues.  Other links you may need are below: