Abilities Tennis Association of North Carolina (ATANC) is a non profit 501(c)3 organization dedicated to raising awareness and developing adaptive tennis programs for persons with intellectual disabilities throughout the state of North Carolina.  Their goal is to provide adaptive tennis programs year round through clinics, tournaments, and PE-Adaptive Tennis in the Public School systems.  They work closely with USTA NC, Community Tennis Associations, Public School Systems, Parks and Recreation departments and Special Olympics of NC.
Abilities Tennis has adapted tennis programs to accommodate individuals with intellectual disabilities.  This includes training coaches and volunteers; providing skills based, short court and long court tennis opportunities; and unified doubles which partners individuals without a disability with special needs athletes.
Find out more about the Abilities Tennis Core Program (PE Abilities Tennis, Clinics and Tournament) by watching the videos on their website.
Clinics & Volunteer Information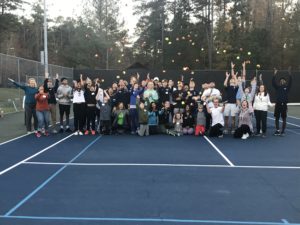 Volunteers sign up for the clinic dates they are available for through our sign up program.  All volunteers need to do a one time training.   Next training will be held in August/September and will be posted here.  Registration is required and space is limited.   Contact Laura for more information or click here to be notified of future trainings.
Town of Cary
Clinics are Saturdays 4:00 to 5:00 pm at Cary Tennis Park.  Fall 2020 dates will be posted here when they are published by Town of Cary.   Athletes should contact the Town of Cary to register for the clinics.
Most clinics will be held in the covered courts so it will be rain or shine, however, if it is raining, please check the CTP Program Status website or call Cary Tennis Park at (919) 462-2061.
Town of Apex
Clinics in Apex are Sundays from 4:00 to 5:00 at Apex Community Park or Apex Nature Park.  Fall 2020 clinic dates will be posted here when pubilshed.  Athletes should contact the Town of Apex to register for the clinics.  In the event of inclement weather contact the Apex Weather Hotline: (919) 249-3348.