Western Wake Tennis offers many opportunities for youth aged 18 and under: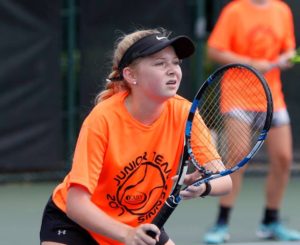 USTA Junior Team Tennis is a 6 to 8 week program of team practice and match play for children ages 4 to 18 where emphasis is placed on fun, fitness, and the social benefits of tennis. Teams are comprised of players of similar age and skill who compete against other teams from the same area in one of five league divisions: 18 & under, 14 & under, 12 & under, 10 and under, or 8 and under.  Players are grouped into either the beginner, intermediate or advanced group based on their ability levels.
There are a variety of festivals, play days and tournaments offered for players of all skill levels.  Read more about the upcoming youth opportunities here.
There are a variety of USTA youth tournaments for all levels.  See the full schedule for the entire state of NC here.