Whether you are looking to just get on the court with some friends or make new ones, USTA League has the right mix of competition, camaraderie, and fun for all players.  Each league offers doubles play for both men and women. Local winners get the opportunity to compete at the state level and the winners at the state advance on to the sectional championship. USTA leagues are broken down by age levels of 18+, 40+, 55+, & 65+.  There is a statewide 70+ team tournament.   Find out more about the USTA Senior Leagues and the opportunities available.    Contact our Local League Coordinator for additional information.
Drop-In Tennis for Seniors
Western Wake County has an energized senior tennis population. While some play in USTA Senior and Super Senior leagues, many more participate in drop-in sessions. These informal arrangements have the benefit of allowing participation with schedule flexibility. Typically, players show up at a designated facility, day of the week, and start time. Players fill courts on a first-come basis. The table below provides details on these senior tennis opportunities.  CTP court fees apply during the summer period (roughly May through August).
Public Access Facility
Days
Start Time
Contact/Coordinator
Cary Tennis Park, Cary
Tue & Thu
7:30 a.m. summer
Mike Kolesar
12 p.m. winter
R.S. Dunham Park, Cary
Mon., Wed., Fri.
8 a.m. summer
Helen Makarczyk
9 a.m. winter
Action Park, Fuquay-Varina
Mon – Fri
8:30 a.m. summer

9:00 a.m. winter

Matt Perri
Sun
2:00 p.m.
Apex Community Park
Tuesday
9 a.m. – 11 a.m.
 Allie Prelaske
Apex Nature Park
Thursday
9 a.m. – 11 a.m.
 Allie Prelaske
NOTE: Start times are earlier in summer to avoid excess heat. CTP play starts a noon in winter corresponding to free play hours. Time changes are announced within each play group. Check with Contact/Coordinator for the current start time. Also, some begin play earlier than the official start time, especially in the hot summertime.
There are also active adult communities in the Cary area, including Carolina Preserve and Farrington Village, that have senior tennis activities restricted to residents. These players join with the open groups for Senior Appreciation Day activities.
North Carolina Senior Games
Click here for North Carolina Senior Games website.   Senior games include tennis!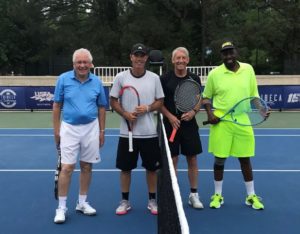 WWTA and Town of Cary host  Senior Appreciation Day!  There is a spring (May) and a fall (October) event. The spring event includes a free morning of organized round robin tennis as well as free catered lunch and clinics led by Cary Tennis Park pros.  The fall event is a free morning of organized round robin tennis.  Unfortunately, due to the health crisis in 2020 we are not able to hold the spring or fall event.  We can't wait to get back to it in 2021!  Registration is required and it fills up fast!  Registration link can be found on this page about a month before the event.