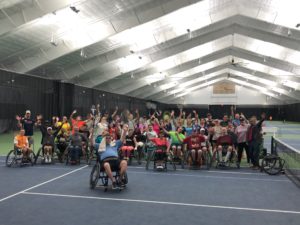 Wheelchair tennis follows the same rules as able bodied tennis, except a wheelchair athlete can let the ball bounce twice. Wheelchair tennis is an inclusive sport and able bodied players and wheelchair players can play doubles together and it is also a Paralympic sport.  Tennis is a great sport for people with spinal cord injury or who are amputees.  Click here for wheelchair tennis rules.
Wheel Serve North Carolina is a newly formed state-wide Community Tennis Association focused solely on exposing athletes with a physical disability to the sport of tennis. Our purpose is to grow, promote and support wheelchair tennis in North Carolina by creating more opportunities to play and compete across the state whether at a recreational or competitive-level of play. We encourage anyone with a physical disability to try wheelchair tennis and experience the many benefits that come from being on a tennis court.
Several volunteers are needed each week so that we can provide the best experience possible.  Volunteers do a variety of tasks to support this program – assistance to and from parking lot, help in getting athletes situated in chairs, playing tennis in all play activities, doing drills and hitting with attending family members, picking up balls, and anything else needed to make this a positive experience for the athletes and their families.  Current volunteers, contact Laura for the link to sign up to volunteer.  If you are a new volunteer or would like more information, please contact Laura.
Clinics, Programs and Event Information & Dates
Clinics  – Free clinics will be held year-round at Cary Tennis Park on Saturdays for youth and adults – some blackout dates apply.  See below for clinic dates, time and special events. Equipment (sport chairs and racquets) are available for use and the clinics are held in covered courts so clinics are held regardless of weather.  These clinics are designed for any level of player – never played before or experienced.
If you are interested in participating, click here for more information and for new participants to sign up.
Town of Cary clinics are on hold until at least Phase 3 of the NC plan for reopening.  However, we are planning to hold one to two clinics per month at area courts weather permitting since we will be outdoors.  Dates/times below.  Because we need to bring equipment from Cary Tennis Park to the courts (chairs and racquets) we need players to let us know that they will be there and if they need a sport chair so we have everything we need.  Email Laura to sign up for the clinics:
October 24th – 12:30 – 2:00p – Morrisville Aquatics & Fitness Center (1301 Morrisville Parkway)
Wheel Serve NC – Tennis Ladder – quarterly scoring, short sets, singles or doubles, get points for all games won!  You can participate locally and we hope to incorporate this format into some future tournaments.  Click here for more information.
Private lessons can be arranged by contacting Cary Tennis Park at (919) 462-2061.