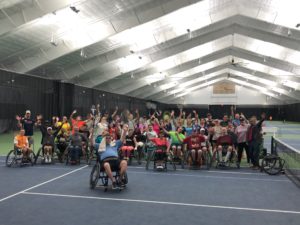 Wheelchair tennis is a US Paralympic sport, which follows the same rules as able bodied tennis, except a wheelchair athlete can let the ball bounce twice. Wheelchair tennis is an inclusive sport and able bodied players and wheelchair players can play doubles together.
Weekly clinics will be held year-round at Cary Tennis Park on Saturdays from 5:00 to 6:30 for youth and adults.  Equipment (sport chairs and racquets) will be available for use but participants should sign up in advance.  The clinics are free, but registration will be required.  The covered courts will be used when there is inclement weather!  Tennis is a great sport for people with spinal cord injury or who are amputees.
The clinics are free!  If you are interested in participating, click here for more information and for new participants to sign up.  Please be sure to look at the dates on this sign up!  There are blackout dates due to large events at Cary Tennis Park.
Remaining 2019 clinic dates:
November – 23rd
December 7th, 14th, 21st
Wednesday, December 11th from 1:00 to 2:30, Cary Tennis Park is hosting an Open House.  Tennis sport chairs and racquets are available for use but we do need people to register to get a good estimate of what we will need -including for food for after the clinic!  Please email Laura with questions and to sign up!
Many volunteers are needed at the weekly clinics and one PT/medical professional so that we can provide the best experience possible.  Volunteers do a variety of tasks to support this program – assistance to and from parking lot, help in getting athletes situated in chairs, playing tennis in all play activities, doing drills and hitting with attending family members, picking up balls, and anything else needed to make this a positive experience for the athletes and their families.  Current volunteers, contact Laura for the link to sign up to volunteer.  If you are a new volunteer or would like more information, please contact Laura.
Private lessons can be arranged by contacting Cary Tennis Park at (919) 462-2061.