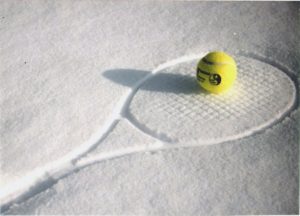 Keep yourself out there playing in the colder weather and practice those skills –  sign up for the WWTA Ladies Winter League on weekday mornings.  A USTA membership is not required and 2018  year end USTA ratings will be used.  There will be two courts of doubles and one court of singles with a minimum 7 matches during the October 28th – February season.   Most USTA rules apply with the exception that play consists of two out of three full sets. However, before each individual court puts a ball in play, all players can agree to play a third set 10 point tiebreaker instead.  This is an independent decision between the players on each court, not a team decision.  A full 3rd set is the default.
Registration opens on September 23, 2019, and the last day to register your team is October 7, 2019.  All teams must have a minimum of 6 players by that date, but players can be added during the season as long as the maximum of 15 players is not exceeded.  After the season has started, the captain must request to have new players added by the Local League Coordinator (LLC) .  All divisions are 18+ and start at 10:00.  The playdays are: 2.5 Friday, 3.0 Monday, 3.5 Tuesday, 4.0 Thursday, 4.5 Wednesday.
Teams have the option to reschedule if the "feels like" temperature (which includes wind chill) is forecasted to be 35 degrees or less at match start time.   Both captains should check the hourly forecast using their match location on Accuweather or the mobile Ap.  This decision cannot be made until 2 hours before the match and no other weather resources can be used to obtain the forecast.  If captains still want to consider playing in the cold, both must be in agreement.  When matches are rescheduled, the new date and time confirmed will be treated as the new match date. Matches should be make up within 4 weeks but please contact the LLC if you have special circumstances and cannot meet that requirement.
Registration is September 23rd through October 7th.   By registration close, each team will need to have a minimum of 6 players and the team maximum is 15 players.   Click here for individual registration – fee is $13 per player. Captains should register first, then send the registration link along with the team name to the players.
Public facility options are Morrisville Church Street Park, Holly Springs Ting Park, Town of Apex, and Town of Cary.  Court fees for public facilities are a separate fee.  All court fees need to be paid prior to the start of the season.  For Town of Cary teams, email ctpadultleaguesupport@townofcary.org for a course course code that each player will use to pay their court fees.  For  Apex and Morrisville, click here to pay court fees for the entire team.  If your team is out of Holly Springs, the captain will receive a bill from the town after the schedules are posted.  For private facilities, be sure to check with your club for court availability.
We follow the majority of the rules and regulations as our USTA leagues.  Other links you may need are below: