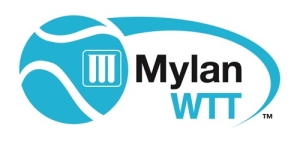 Because of the nature and format of World Team Tennis which includes team players congregating on the courts while waiting to play, WWTA will offer an alternate weekend winter doubles league for winter 2020/2021.  The format will be 3 courts of doubles – 1 men's, 1 women's, 1 mixed and the levels will be 3.0, 3.5, 4.0 and 4.5.  This format better allows for social distancing with 12 people spread among three courts and no congregating between two courts.  We know you love World Team Tennis and we are working on a plan to provide that opportunity Spring 2021 on weeknights.  For more information on S'More Fun Winter Doubles click here.  
Since its inception in the early 70s, World Team Tennis (WTT) has been an innovator in the tennis world. Many of WTT's novel rules have been designed to make the game a "fan-friendly" sport. WTT is all about the fans, it's a little bit rock n' roll and a whole lot of fun. Fans are encouraged to come out and cheer local teams on being loud, exciting and innovative.
The WTT format provides an exciting way of playing tennis with a mixture of singles, mixed doubles, and women's/men's doubles in the same match. Only two tennis courts are required to have home matches at your site and only 3 men and 3 women are required to create a team, with a local maximum of 14 players per team (National Qualifiers are 10 player maximum).  Winning teams from our local league may advance to National Qualifiers and ultimately the National Championships.  The number of teams in each division determines how many teams get to go to a NQ.
Adult Winter – November-February with registration September to early October .  On the last day to add a team,  the minimum of 3 males and 3 females must be on the roster by that date. However, teams may add players to their roster during the season if they do not already exceed the maximum.  The 3.5 and 4.5 teams play on Saturdays at 1:00 or 3:00, and the 3.0 and 4.0 teams play on Sundays at 1:00 or 3:00.  There will be a minimum of 7 matches in the season. Home team provides two cans of balls.  You can base your team out of your private club or subdivision if it is in the WWTA area and there are 2 courts. Public facility options are Morrisville Church Street Park, Holly Springs Ting Park, Town of Apex and Town of Cary.  2018 year end ratings will be used for the 2019/2020 winter season.  Teams have the option to reschedule if the "feels like" temperature (which includes wind chill) is forecasted to be 35 degrees or less at match start time. Both captains should check the hourly forecast using the location of your match on Accuweather or you may use the App on your phone. This decision cannot be made until 2 hours before the match and no other weather resources can be used to obtain the forecast.  If captains still want to consider playing in the cold, both must be in agreement. When matches are rescheduled, the new date and time confirmed will be treated as the new match date.
Senior Summer – Anyone turning 50 in the year of the league or older can play. The season runs June 1  – July 20 with registration in mid-April (TBD).  We are currently offering a 3.5 and 4.0 league which all play on Saturdays at 9:00 or 11:30.   We will need at least 3 teams of each level to have a local league.  However, if there ends up being less, you can advance directly to a National Qualifier.  There will be a minimum of 3-4 matches in the season – please note this is a very short season with very low fees.  Town of Cary does not participate in Senior WTT.  This means teams will either need to be based out of a private club/neighborhood in the WWTA area, including public courts in Morrisville, Apex or Holly Springs for your matches.  Public teams will not have "home" courts, the court locations will be randomly assigned.  Registration fees reflect court fees as well.
Registration and Quick Links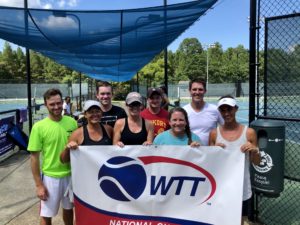 NEW REGISTRATION SYSTEM:
1) Click here for registration. 2) Once step 1 is completed click here to go to the WTT site and register there as well.
To request a team out of  town of Cary, home captain should email ctpadultleaguesupport@townofcary.org.
Contact Dana Shulman if you need any more information.
Much of the information you will need for your World Team Tennis Season can be found here: